Gervasi Vineyard (GV) celebrates love, romance and ambiance all year, but even more so in the month of February. You can just feel the amore all around you when you arrive on the property.
Make this Valentine's Day one to remember by celebrating love at Gervasi. Share an amazing meal with your special someone, and delight your palette with award-winning wines. It's the perfect place to pop the question, and you can even extend the romance with an overnight stay. Looking for a unique Valentine's Day gift? GV has that covered, too.

A Romantic Dinner—and Possibly a Proposal
The Crush House at GV is a contemporary wine bar and eatery located across the one-lane bridge near the back of the estate. A guest favorite, this modern, industrial-style restaurant is an ideal spot for an evening of romance with your love.
The Crush House is offering a special Valentine's Day feature menu that includes:
Appetizer: Oysters (6) served with house made cocktail sauce and lemon wedges ($18)
Two Delicious Entrées to Choose From:
SURF AND TURF – 6oz filet topped with a sherry red wine sauce, served with 3 jumbo shrimp, parmesan fingerling potatoes and seasonal vegetable ($48)
SEABASS- 8oz portion of seabass topped with a pineapple salsa, served with parmesan risotto and seasonal vegetable ($38)
Diners may add scallops to any entrée on the regular or feature menus! (3 for $12)
Must-Have Dessert: Shareable red velvet cake platter – Double layered, heart shaped, red velvet cake served with 4 chocolate covered strawberries, whipped cream and berries ($16)
The culinary team at The Crush House is dedicated to bringing you a remarkable meal and an evening you won't forget. Chef Tori Marion said, "If you are a chef—no matter how good a chef you are—cooking for yourself is not enjoyable. The enjoyable part of cooking for all of us at The Crush House is cooking for our customers and the ones they love, and helping to bring them closer together for an incredible meal."
Bonus option: Gervasi's sister restaurant in Green, Ohio – The Twisted Olive – is also featuring a special Valentine's Day menu February 11, 12 & 14. Choose from three enticing appetizers, three specialty entrées and three indulgent desserts for $68 per person.
Gervasi boasts an extensive wine portfolio, including both reds and whites, as well as an exclusive Italian collection. If you're planning to surprise your special someone with an engagement ring in a glass of bubbly, consider GV's Lambrusco, and hope they say 'yes'!
If you aren't quite ready for the evening to end, head to The Still House for a nightcap. Enjoy a glass of GV Spirits, a handcrafted cocktail, or a cup of GV's proprietary blend coffee.
An Overnight Stay for Two
Keep the romance alive beyond Valentine's Day by staying a night or two (or three) at one of GV's award-winning lodgings. You'll be enchanted by the comfort and luxury you experience at The Farmhouse, The Casa or The Villas.
Now through March 31, 2022, Gervasi is offering two special overnight stay promotions. The first is for a two-night stay (Promo Code: WINTER2NIGHT), and the second is for Monday nights only (Promo Code: WINTERMONDAYNIGHT).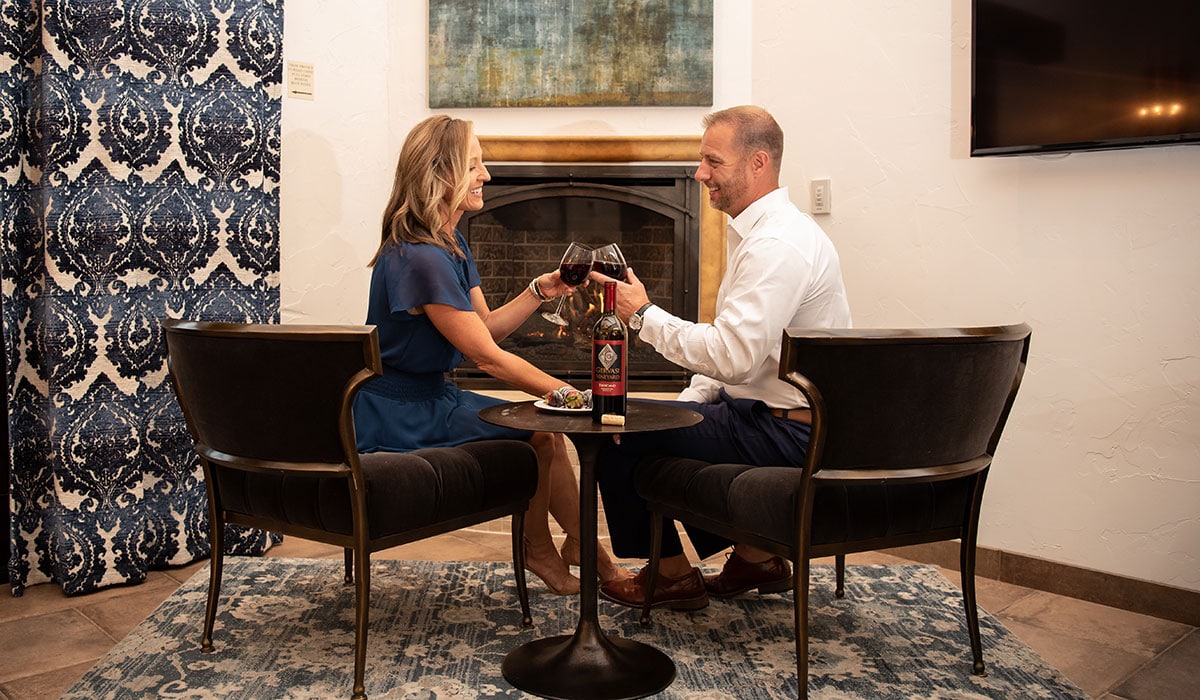 Give the Gift of Gervasi
Don't forget a romantic gift to commemorate your evening of love! The Marketplace at GV is a unique boutique featuring jewelry, accessories, home décor, gourmet foods, wines and spirits. You'll be sure to find something special that makes their heart skip a beat!
So what are you waiting for? Make your Valentine's Day reservations and gift selections now by calling (330) 497-1000 or visiting gervasivineyard.com.
Buon San Valentino!