The Spa & Wine Cave
Expansion Project
Gervasi Vineyard will be expanding with the addition of a 20,000 square feet project in two structures to be built in the southwest corner of the 55-acre estate. The construction of the diverse multiuse expansion is underway.  The Spa, The Wine Cave, product warehouse and distribution facility, and Rickhouse are the four components that will be taking shape.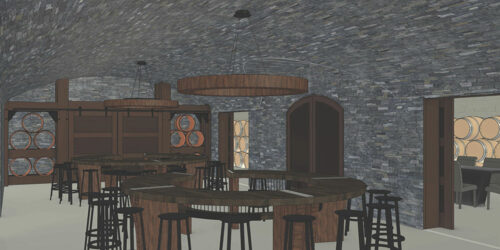 The Spa
The Spa will feature a state-of-the-art design and equipment to provide Gervasi guests and local spa seekers a beautiful and tranquil experience along with exceptional spa services. The 5,000 sq. ft. facility will transcend guests to a high-end luxurious spa. Services will include a variety of massages, facials, body treatments, and manicure/pedicure services.
Learn about The Spa
The Cave
The Cave will consist of an underground 1,000 sq. ft. Tasting Room and adjoining 4,500 sq. ft. wine barrel cave for wine barrel aging. The intimate Tasting Room will be open select hours for traditional style wine tasting experiences and tours. Exclusive wine club access, Gervasi events, and private events will all be offered in The Cave. The wine barrel cave will house all of Gervasi Vineyard's growing wine barrel aging and showcase unique educational opportunities during tours.
Learn about The Cave