Gervasi Vineyard (GV) has become a favorite destination winery resort for visitors from around the world and from right down the street. It is much loved for a number of reasons such as award-winning wines and spirits, upscale dining, luxurious stays, and exquisite and romantic landscapes that make one feel like they have traveled to Tuscany.
Soon there will be two more reasons to make GV a regular stop, the addition of The Spa and The Cave. The Swaldo family has been successful with developing and building GV because they listen to their guests and respond to their needs. Both additions are in response to customer requests.
"The single most common suggestion we hear from guests is an interest in a spa," said General Manager Scott Swaldo. "For non-hotel guests, adding a Spa gives locals and destination day spa regional guests a chance to have a high-end luxury spa experience in their backyard without having to travel too far.  Adding The Spa gives guests another opportunity for special getaway trips, such as going to The Spa and having lunch or going to The Spa and shopping or another reason to stay one more night."
The addition of the 20,000 square feet diverse multiuse facility is in progress on the southwest corner of the 55-acre estate. It includes four components The Spa, The Cave, a product warehouse and distribution facility, and the Rickhouse – and all are quickly taking shape.
Both The Spa and The Cave projects are under roof with floors and the Rickhouse has been finished. The Spa has a projected opening of mid-2023. The Cave will open just a bit earlier in the first quarter of 2023.
"The Cave will have a more traditional wine tasting room experience where guests really focus on experiencing and learning about our wines, something we provide elsewhere on the property, but it is mixed with the restaurant environment. This experience will be ALL about the wine and really be an elevated wine tasting experience," Swaldo said.
"Guests LOVE tours and other types of learning experiences.  We'll be able to provide very interesting and informative tour experiences about wine barrel aging and wine production in a highly unique and interesting environment," he added.
One additional building in this expansion project is The Rickhouse. The 1,500-square-foot building will store barrels of bourbon/whiskey to support Gervasi's growing bourbon barrel aging needs.
LUXURIATE AT THE SPA
The Spa offers a state-of-the-art design and equipment to provide Gervasi guests and local spa seekers a beautiful and tranquil experience along with exceptional spa services. The 5,000 sq. ft. facility will transcend guests to a high-end luxurious spa. Services will include a variety of massages, facials, body treatments, and manicure/pedicure services.
"We do anticipate offering special packages and utilize high-end products for services which will be available for retail purchase," Swaldo said.
State-of-the-art equipment guests will find in The Spa includes luxury pedicure chairs and foot spas; powered adjustable multi-use massage/facial tables with heaters; an air bath with chromotherapy; and a steam Sauna with chromotherapy and aromatherapy.
"We knew we wanted to create a very special spa with high-end luxury amenities and services.  Then we discovered Michele Pelafas Interiors.  First, because of the high-end equipment, she has made for many years and then learned of her full-service design solutions," Swaldo said.
"After doing a deep review of her projects and experience along with a site visit to Chicago, we knew this was the right designer for us.  Spas are very unique facilities and require someone with expertise in the field to really design the floorplan, aesthetics, and amenities needed for an exceptional guest experience," he added.
Norm Eckinger Inc is the design/build firm for the entire project and did the architectural work for the overall project, buildings, and wine cave.
As with all of the GV projects, the Swaldo family is very involved in working with outside vendors and designers to select every detail of a GV project.  The family loves and enjoys the creative process and collaborating with the team to develop new facilities and experiences fitting the Gervasi brand and delivering the ambiance and experience they seek to achieve with all GV outlets.
The Spa will be available for the GV guests as well as the public.  Swaldo said they are prepared and ready to schedule groups and special celebrations and provide everyone with a memorable experience.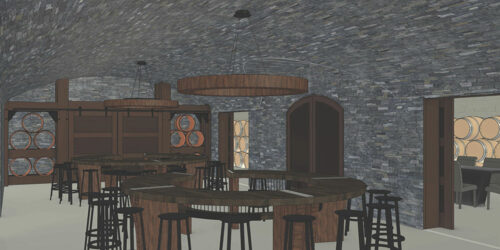 WINE TASTING AT THE CAVE
The Cave will consist of an underground 1,000 sq. ft. Tasting Room and an adjoining 4,500 sq. ft. wine barrel room for wine barrel aging. The intimate Tasting Room will be open for select hours for traditional-style wine tasting experiences and tours. Exclusive wine club access, Gervasi events, and private events will all be offered in The Cave. The wine barrel cave will house all of Gervasi Vineyard's growing wine barrel aging and showcase unique educational opportunities during tours.
Swaldo said they are anticipating four types of experiences at The Cave:
Regular ticketed tastings and tours
Regular public tasting hours for wine tastings
Private hospitality events (elaborate antipasti displays/wine)
Special Gervasi Vineyard events
"We are not your typical winery where we have a designated "tasting room". The Cave will give us the opportunity to showcase our award-winning portfolio along with educating our guests about the winemaking process in a unique experience," said Swaldo.
MORE REASONS TO VISIT AND STAY
Gervasi Vineyard has a rich twelve-year history with a promise to guests to continue to develop new endeavors and experiences that people will enjoy as much as the vineyard, wines, and spirits.
Ted Swaldo, Founder GV Destinations said, "By our true nature, we love the challenge of building new spaces and mastering processes that create a memorable experience for our guests and community."
Come for the day, for the evening, or stay overnight for a while. Gervasi Vineyard offers all guests an experience and soon there will be even more reasons to celebrate life at Gervasi's with The Spa and The Cave.