GV is welcoming in a new year with more upscale and spectacular options for enjoyment along with a new name!
Gervasi Vineyard (GV) has been a favored destination resort since its beginnings with the opening of The Bistro in the spring of 2010. GV has continued to meet the needs of its guests over the past 13 years by expanding its offerings and services.
They are doing it once again! Guests to GV have often mentioned how nice it would be to add spa services to all of the many options found at GV and those services will be available soon with the opening of The Spa. And, the newly added Wine Cave will open in late February 2023.
With new options comes a new or rebranded name to Gervasi Vineyard Resort & Spa.
General Manager, Scott Swaldo said, "To stay relevant in the tourism market, we are undergoing a rebranding initiative to Gervasi Vineyard Resort & Spa.
"This will allow us to market Gervasi Vineyard to a regional tourism market and attract new tourists to the Canton community. It is our vision to become a leading destination resort that delivers a world-class hospitality experience where people can connect to enhance their lives. Including Resort & Spa in our name will better describe to guests the offerings they will expect on property."
The Spa
The 5,000 sq. ft. facility will transcend guests to a high-end luxurious spa. Services will include a variety of massages, facials, body treatments, and manicure/pedicure services.
The Spa will be available for the GV overnight guests as well as the public.
Brooke Zarconi has joined GV's team as The Spa's Operations Manager. She comes to us from California and has over 20 years in the spa industry.
Our holistic treatments have been thoughtfully curated to pair Canton, Ohio's developing and passionate culture with the decadent spirit of Italy. The Spa will be offering massages, facials, body indulgences, glam services, and a couple's suite experience.
Join GV Resort & Spa for a tranquil environment with state-of-the-art equipment that will provide Spa guests with a truly decadent experience that will start when entering the front door.
Completion date for The Spa will soon be announced.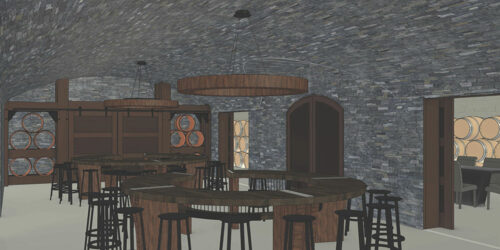 The Cave
Construction for The Cave is underway and it is expected to open in late February.
The Cave is ALL about the wine. The focus of The Cave is to deliver a world-class wine-tasting experience in a unique and intimate environment. The Cave will consist of an underground 1,000 sq. ft. tasting room and an adjoining 4,500 sq. ft. wine barrel cave for aging.
Guests can choose from three experiences while at The Cave including exclusive tasting tours, public tasting hours and private events.
The Cave will showcase GV's award-winning wine and offer another unique experience for guests to enjoy.
The Same Yet New
While GV is welcoming in a new year with more upscale and amazing options for enjoyment along with a new name, returning and new guests will quickly realize that Gervasi Vineyard Resort and Spa remains the place to go for exquisite meals, luxurious overnight stays, amazing wines, unique spirits, delicious coffees, Tuscan-style ambiance and an experience to remember.
"We are excited for the many exciting ventures ahead in 2023. We promise we are here to serve you and provide an exceptional experience as you "Celebrate Life" at Gervasi Vineyard Resort & Spa," Swaldo said.