This holiday season, Gervasi Vineyard is adding excitement and joy to celebrations with family, friends, and co-workers. Each week leading up to Christmas, we'll share a new idea for experiencing Gervasi with your loved ones.
Tis the season to visit Gervasi Vineyard winery resort. Holiday spirit can be found in all of the award-winning restaurants, the Marketplace gift shop, and the luxury suites for weekend stays including: The Farmhouse, The Casa and The Villas.
Wine enthusiasts, foodies and cocktail connoisseurs are very familiar with the quality of all the exquisite wines, housemade cuisine, and crafted spirits served at Gervasi Vineyard. For the beer drinkers out there, Gervasi is releasing a special Christmas Ale, Buon Natale! (Italian for "Merry Christmas"). This craft beer is one of several found bottled in all three restaurants on the 55-acre estate and on tap in The Still House cocktail lounge.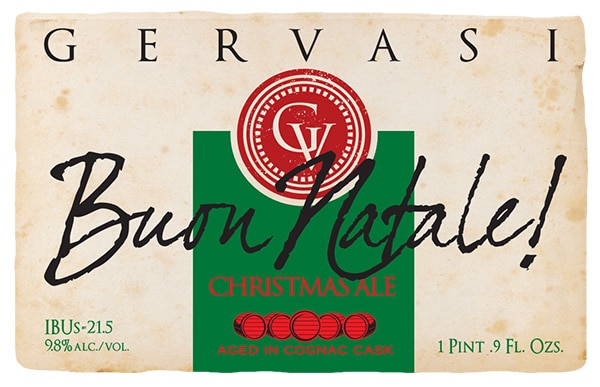 Buon Natale!: This is the second year Gervasi has offered an exclusive and distinctive Christmas ale. Buon Natale! will be available beginning the week of November 16, with limited availability this holiday season.
"We are excited to offer a really unique Christmas ale again this year. Our guests really like to experience something different in beer and wine, with seasonal flavors appropriate for the time of the year," said Scott Swaldo, General Manager/CEO for GV Destinations. "Buon Natale! is unique to Gervasi Vineyard, and it is a great way to enjoy the holidays with a celebration."
"Craft beer enthusiasts will find Gervasi's Christmas ale an appealing and elegant holiday treat. The ale is spiced brown and aged in a cognac cask. The flavors of toffee and dried fruits from the cask blend nicely with a special Christmas spice which is a blend of ginger, cinnamon, honey and nutmeg," said Swaldo.
Gervasi Vineyard's Craft Beers
In addition to the Christmas ale, Gervasi offers several other craft beers including Farmhouse Ale, Jabberwocky Pale Ale and the Sawmill IPA and Forza.
"The names of our beers pay homage to our historic estate and its diverse past. We hope our guests enjoy the distinct flavors of each brew and enjoy learning about the history of the property and its unique story," said Swaldo
Farmhouse Ale: This smooth-bodied ale pours out to a dark straw appearance with a dense white head. With flavor and aroma of tropical fruit and light pepper notes, it creates a pleasant balance between the hop and malt profile. [History of name: The original 1830s farmhouse of Oberlin Farm is still intact on the property and serves today as an overnight getaway. Farmhouse Ale salutes this historic home as the cornerstone of the property.]
Jabberwocky Pale Ale: This deep gold-colored, medium-bodied ale has a bright white head, which invites one to smell the hints of citrus and mango hiding behind a smooth layer of pine. The complex hop aroma is complemented by a profound malt backbone.  [History of name: When the owners of Gervasi Vineyard purchased the estate in late 2008, it was a working tree farm named Jabberwocky.]
Sawmill IPA: This New England style IPA is marked with a delicious golden haze. Aroma and flavors of juicy tropical fruits are created from Azaaca, Mosaic and Citra hops. Sawmill is dry hopped for additional aromas and flavor sensations. [History of name: At the turn of the 19th century, the property housed a working sawmill located at the same spillway that exists today on Lake Gervasi.]
Forza: A Scottish ale that pours a deep rich brown with malty, sweet caramel flavor integrated with the bourbon tones from aging in bourbon casks for 12 months. This beer pairs well with red meats, desserts, salads with vinegar based dressings and as a standalone after-dinner indulgence.
Gervasi Vineyard's signature craft beers are brewed by Akron-based Thirsty Dog Brewing Company. Gervasi started serving their own label craft beer line seven years ago with exclusive recipes and styles that can only be experienced at GV Destinations' restaurants: The Bistro, The Crush House Wine Bar & Eatery, The Piazza, The Still House and The Twisted Olive (sister property located in Green, Ohio.)
Enjoy Craft Beer Mondays at The Crush House, featuring a special $2 discount off of all of Gervasi's craft beers from 6 pm until close.
Buon Natale! to all. The holidays are always merrier at Gervasi Vineyard.
GV Brand Promise: Our commitment to safety and cleanliness is paramount for our guests.  All venues have been fully reconfigured to ensure all social distancing guidelines are met. Details >>